Asia-Pacific airlines: international capacity is making good progress in closing recovery gap
Analysis
Asia-Pacific airlines have been accelerating their capacity recovery on international routes in recent months – although they still have some way to go to catch up with airlines in other global regions.
International demand has undoubtedly roared back – as evidenced by the elevated average fares and profits of some airlines. Airlines have tried to keep pace by returning more parked aircraft to service and purchasing or leasing additional lift, but supply is still constrained.
This means international capacity is being determined more by aircraft availability than by demand levels in many cases.
There is still a lot of variance between sub-regions in the broader Asia-Pacific region. The Northeast Asia sub-region still lags other parts, such as Southeast Asia and Australasia.
However, even in Northeast Asia the improvement has been dramatic since the first quarter of 2023.
Summary:
While Asia-Pacific domestic capacity is 6.7% above its 2019 level, international is still about 20% below.
International demand has doubled over the past year and load factors have essentially fully recovered.
Gap between Asia-Pacific and global capacity recovery rates has narrowed to 20 percentage points.
Northeast Asia has the lowest recovery rate in the region, at 65%, but it has improved dramatically in 2023.
Domestic capacity is ahead of 2019 levels, while international is gaining ground
System seat capacity in the Asia-Pacific region has recovered to 97.3% of 2019 levels for the week of 28-Aug-2023, according to CAPA – Centre for Aviation and OAG. This is driven in large part by domestic capacity, which is running 6.7% ahead of 2019 levels.
However, international capacity has also been on a healthy growth track – albeit from a lower base than domestic.
The graph below shows that international seat capacity has recovered to 79.1% of 2019 levels for the week of 28-Aug-2023. This compares to a 59.7% recovery rate at the start of 2023, and 73.6% at the start of May-2023.
Asia-Pacific: international capacity, as measured in weekly seats, 2019-2023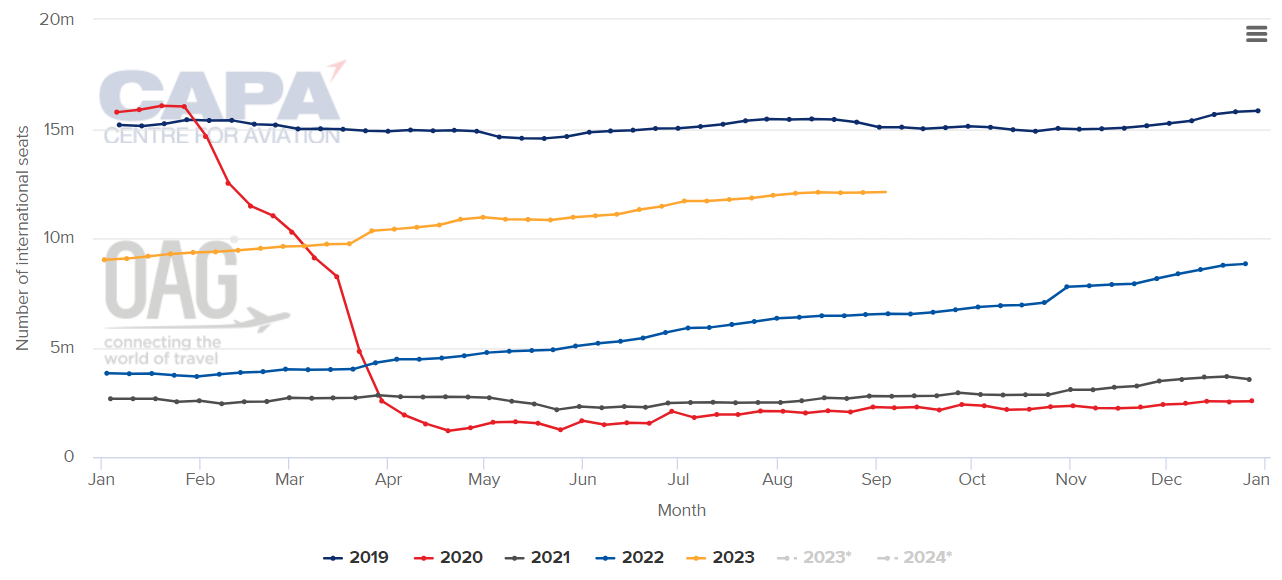 International demand has surged dramatically over the past year, keeping load factors high
The Association of Asia-Pacific Airlines (AAPA) reports that demand has also been rising strongly.
The group said that international passenger numbers for Asia-Pacific airlines had risen by 146.6% in Jul-2023 versus the same month in 2022: this means a recovery of 81.4% compared to Jul-2019.
International demand as measured in revenue passenger kilometres increased 107.6% year-on-year, with capacity (in available seat kilometres) up 98.8%. Average load factor rose by 3.6 points to 83.7% – which AAPA said was in line with 2019 levels.
The AAPA said that strong recovery trends continued into the second half of 2023. Major factors include "sustained growth in major Asian economies fuelling the appetite for international travel", and the return of travel into and out of China.
AAPA predicts demand will stay strong, however possible clouds on the horizon include uncertainties in the wider macroeconomic environment and increased living costs, both of which could affect travel spending habits.
Asia-Pacific capacity recovery continues to trail other regions, but the gap is closing
The chart of capacity recovery below illustrates how the international capacity recovery by Asia-Pacific airlines has lagged those in the other regions since the beginning of the COVID-19 pandemic.
However, the gap between Asia-Pacific airlines and the other major regions has narrowed considerably during the course of 2023. The rate of increase has been much steeper than in Europe or North America in 2023.
For the week of 28-Aug-2023, capacity was at 96% of 2019 levels for Europe and 101.1% for North America. The global average was 98%.
This means that the Asia-Pacific recovery rate of 79.1% is now less than 17 percentage points behind Europe, and less than 20 points behind the global average.
The difference between the Asia-Pacific and global averages was 42.3 points in the week of 29-Nov-2021, and 38.2 points a year ago in the week of 29-Aug-2022.
International capacity recovery versus 2019: by global region, as measured in weekly seats, 2020-2023

The Northeast Asian sub-region is still the key to the Asia-Pacific recovery rate
The improved recovery in the Asia-Pacific region has been spurred by the Northeast Asia sub-region. This includes markets such as Japan, Hong Kong and mainland China, which were relatively late to ease travel restrictions.
The chart below shows weekly international seat capacity in Northeast Asia has improved to 65% of 2019 levels as of 28-Aug-2023. Although the increase has plateaued somewhat since Jul-2023, it is still significantly above the 47% recovery as of 20-Mar-2023.
Northeast Asia: international capacity, as measured in weekly seats, 2019-2023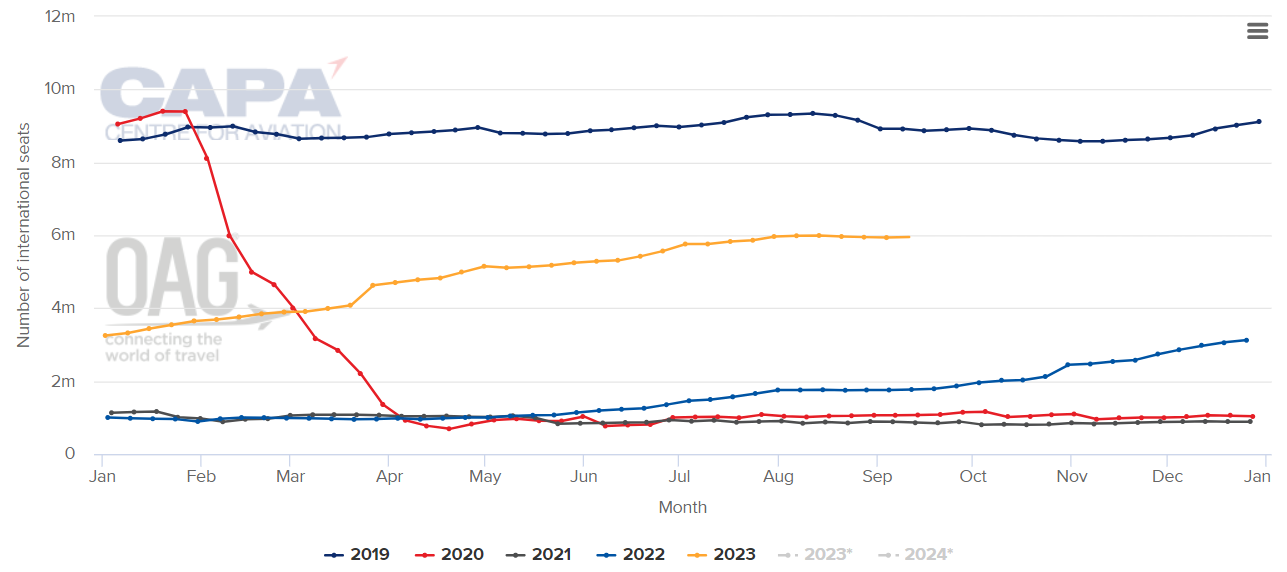 In contrast, Southeast Asia's international seat capacity is at 78.7% of 2019 levels, with Southwest Pacific at 87.4%, and South Asia actually tracking slightly ahead of 2019 levels.
Boosting airline fleets will be the driver for capacity growth, but this could be a long term process
International capacity in the Asia-Pacific region should continue to rise more quickly than in the other main regions in the short term. Airlines will return more aircraft to service and will add to their fleets with new and used aircraft.
However, it may be some time yet before international traffic fully recovers.
Several of the Asia-Pacific airlines cut back their widebody aircraft during restructuring, so even when all parked aircraft are back in service those airlines will have smaller fleets.
Delivery delays, and grounding of some narrowbodies due to engine issues, will not help the situation.
Some of the major markets such as Japan and mainland China have the most room for improvement. These were some of the largest sources of leisure travellers before the COVID-19 pandemic, so their importance cannot be overstated.