Capital A secures US$100m investment to grow MRO business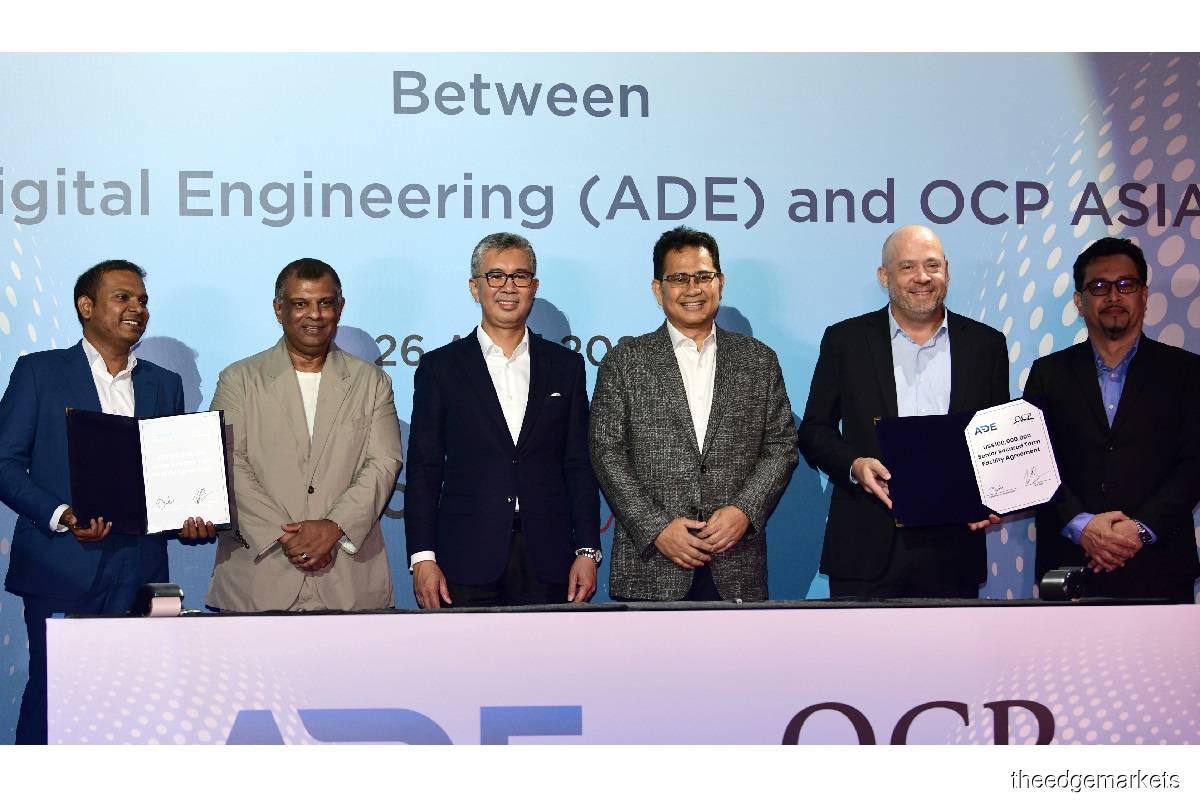 KUALA LUMPUR (April 26): Asia Digital Engineering (ADE), the engineering and maintenance subsidiary of Capital A Bhd, has secured an investment of US$100 million (RM446 million) from investment firm OCP Asia Ltd to expand its maintenance, repair and overhaul (MRO) business.
The investment will be used for the construction and operationalisation of a new 14-line aircraft maintenance hangar facility in Sepang as well as ADE's further business expansion, demonstrating the company's commitment to achieving long-term growth and success, Capital A chief executive officer Tony Fernandes said at a signing ceremony on Wednesday (April 26).
Fernandes said the new aircraft maintenance hangar facility has a capacity to provide maintenance service for up to 14 aircraft at one time. "[However] We are looking to grow [the capacity] to about 20 lines within three years. The 14 lines would just probably take care of AirAsia [fleet], so we need more capacity [to serve third party airlines]."
The new facility will be completed by the third quarter of next year, he said, adding it was expected to be a cash cow business for the company.
"This is a very cash lucrative, very profitable business. To be honest, It was quite an eye opener for me when I started seeing the kind of margins they [ADE] made."
Fernandes said that the group has a fleet size of around 200 aircraft.
"In terms of profit contribution, ADE will be a significant contributor. I think within four or five years, if the group stays as it is, it (ADE) would contribute 30%-40% of the profits [for the group]," he projected at a press conference after the investment signing ceremony between ADE and OCP Asia. OCP Asia is an investment firm that provides financing solutions for enterprises across the Asia Pacific region.
ADE reported a revenue of RM74.6 million in 4QFY2022 with a positive earnings before interest, tax, depreciation and amortisation (EBITDA) of RM5.4 million
Fernandes said this investment vindicates Capital A's strategy of diversifying into more than just an airline.
"We have now set up a fantastic group of airline, airline services, digital and logistics companies with a tremendous upside and now that Covid has ended, investors and the public markets are realising the enormous potential of Capital A," he remarked.
Also present at the signing ceremony was Investment, Trade and Industry Minister Tengku Datuk Seri Zafrul Abdul Aziz, who said that Malaysia has a thriving MRO sector, which offers numerous investment opportunities.
"According to an industry report, the size of Malaysia's MRO sector is estimated to increase from US$1.5 billion (RM6.7 billion) in 2020 to US$2.5 billion by 2026, growing at a compound annual rate of 8.5% during the period," said Tengku Zafrul.
According to him, Malaysia secured RM600 million worth of MRO expansion projects last year, involving heavy maintenance and components MRO activities. The investments were by various reputable companies operating in the country, he said.
"This indicates that investors from both within and outside Malaysia see our MRO sector as an investment opportunity with significant potential for growth."
Tengku Zafrul said ADE's entry into the MRO space within Southeast Asia and the Asia Pacific is expected to significantly boost the growth of Malaysia's MRO industry, whilst also driving healthy competition with existing service providers.
"I was also made to understand that the US$100 million investment by OCP Asia will set a new benchmark for the MRO sector in the region. This is because it will be used for the construction and operationalisation of a new state-of-the-art 14-line aircraft maintenance hangar facility in Sepang, utilising 4IR technologies [Industrial Revolution 4.0] such as robotics and predictive maintenance backed by artificial intelligence.
"All these are expected to create new opportunities for Malaysian companies to develop their digital capabilities and stay ahead of the curve," he added.
Meanwhile, OCP Asia founding partner Teall Edds said the firm believes ADE, with its best-in-class engineering capabilities, technology-driven value proposition and experienced management team is well positioned to be a leading aviation MRO player in the region.
"We are very positive on the recovery of the aviation industry following the challenges of the past three years, and we see the MRO sector as a critical element within the aviation value chain and a key beneficiary of the post-pandemic recovery of global air travel," Edds added.
Driven by the revival of air travel, Capital A returned to the black with a net profit of RM256.20 million in the fourth quarter ended Dec 31, 2022 (4QFY2022), against a net loss of RM756.59 million in the previous year, as revenue almost tripled to RM2.37 billion from RM821.04 million previously.
It should be noted that the last time Capital A booked a quarterly net profit was in the second quarter ended June 30, 2019 (2QFY2019), when it posted a net profit of RM17.94 million.
"In the fourth quarter, 83% of the group's revenue was attributed to the aviation segment, while 6% was derived from the logistics business, 8% from digital and other businesses, and the remaining 3% was contributed by the engineering business.
"The revenue for engineering was more than double the revenue in the fourth quarter of 2021, while Teleport saw an increase in revenue by 17%, mainly due to contribution from international widebody capacity in 4QFY2022," the company had said. Teleport is the logistics arm of Capital A.
Owing to the strong quarterly earnings, Capital A's net loss narrowed to RM2.48 billion for the full year of FY2022, from a loss of RM2.99 billion in FY2021. Full-year revenue soared to RM6.61 billion in 2022, from RM1.84 billion in the previous year due to the relaxation of travel restrictions.
Shares in Capital A closed down three sen or 3.87% to 74.5 sen each, giving the group a market capitalisation of RM3.21 billion.