Sarawak-owned airline to start operations after getting four planes, says state premier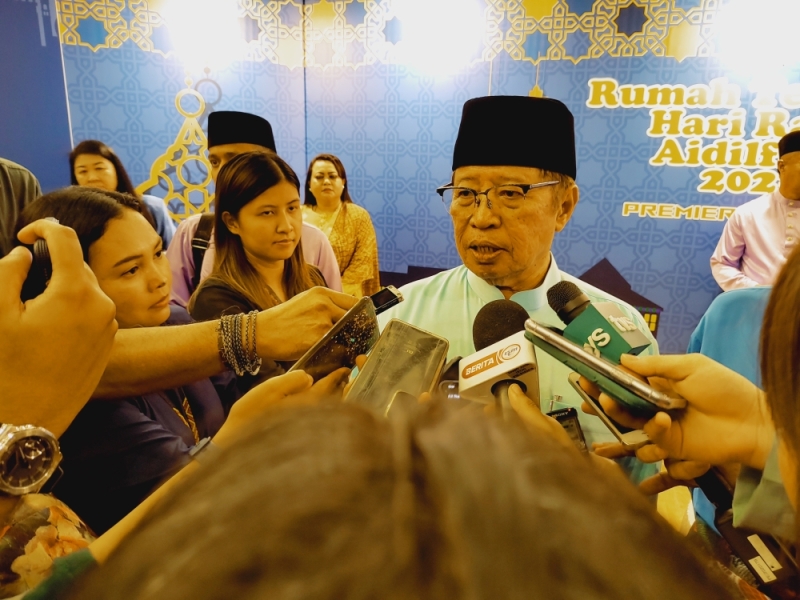 Saturday, 22 Apr 2023 3:29 PM MYT
KUCHING, April 22 — Sarawak Premier Tan Sri Abang Johari Openg today said the state's boutique airline will begin operations after it has acquired aircraft.
He said the airline will acquire at least four turboprop planes, each with a seating capacity of 120 passengers, that will be operating within the region.
"We have just got the greenlight from the federal government," he told reporters at his Hari Raya open house at the Borneo Convention Centre Kuching here.
"We need time to acquire the aircraft. You wait for my announcement next month. It has something to do with the aircraft," he said, adding that it is easier to get the turboprop aircraft.
"Later, we will upgrade to the jet planes," he added.
Abang Johari said he has done his work to set up the boutique airline before asking the federal government to give the approval.
"The model for the boutique airline will be a different model. It is a business model. I cannot reveal now because it is mine.
"I hope that this model will allow us to run the airline that will cover the overhead cost because it is not profit-motivated," he said. The premier said the state government has to intervene in the market to stabilise the air fares for flights to and from Sarawak.
Abang Johari said the boutique airline will not be run by the state government, but a private-sector driven.
He said the state-owned Hornbill Skyways Sdn Bhd, which has over 30 years experience, will be the main operator of the boutique airline.
"So, actually we have the experience to operate the airline. But what we need is a new business model that will allow the airline to fly within the region," he said.
He said the Sarawak-owned airline will benefit tourism players, which include food and beverage operators and fishermen.
"When you calculate the returns, it is not only the airline, but the whole spectrum of the tourism industry that will benefit," he said.
He said he will not reveal if the low boutique airline fare will affect the commercial airlines flying to Sarawak.
"I will keep it to myself," he added.
He dismissed claims by Bandar Kuching Member of Parliament Dr Kelvin Yii that the setting up of the airline will have adverse economic impact on Sarawak. He said only time will tell.
"They were sceptical with the setting up of the autonomous rapid transit (ART), digital economy, Sarawak Pay and so on. Now, what have happened to them.
"I don't want to debate with them. It is shameful to debate," he said.