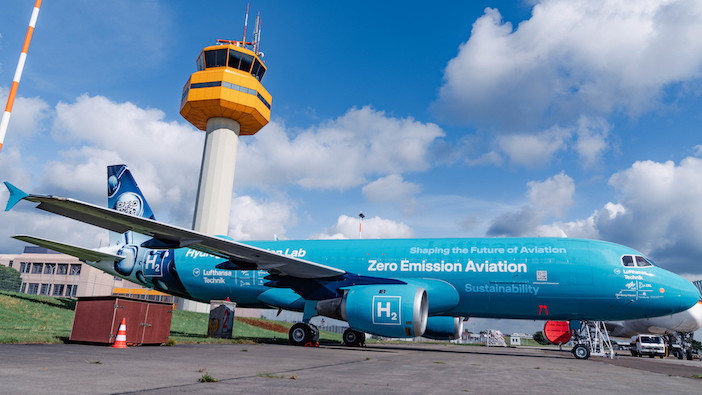 A decommissioned Airbus A320 is being converted to a testbed for hydrogen fuel infrastructure and storage technologies at Hamburg Airport, Germany.
The A320 will be used to develop and test hydrogen ground infrastructure as part of a government-funded project involving Lufthansa Technik, German Aerospace Resarch Center DLR, ZAL and Hamburg Airport. "The Hydrogen Aviation Lab", will help prepare for the handling and maintenance of hydrogen-powered aircraft that are being developed for entry into service by 2035.
The A320, which flew for the Lufthansa Group for 30 years is being fitted out over the next few months with a suite of test systems, an internal tank for storing liquid hydrogen and an onboard fuel cell and will be used alongside supporting ground-based hydrogen infrastructure.
While the aircraft will not fly, it is capable of being towed to locations at the Lufthansa Technik base and Hamburg Airport to research ground-based hydrogen fuel processes.
Using current technology,  refueling a long-haul flight with liquid hydrogen could  take several hours. Given the pressure on aircraft turnaround times in the airline industry, this would be clearly impracticable. The Hydrogen Aviation Lab is designed to address this and several other areas of research, such as how to integrate hydrogen equipment into existing infrastructure and safety aspects of handling hydrogen.
The project will also create a digital twin of the  A320 so researchers can use simulations to develop and test predictive maintenance methods for the systems and components. Lufthansa Technik said that failures of hydrogen components and systems could be predicted ahead of their failure in the physical system by  using targeted data analyses, allowing timely replacements before component failures affect aircraft operation.