Malaysia will upgrade its surveillance capabilities with the acquisition of two maritime patrol aircraft (MPA) from Leonardo, as well as three unmanned air vehicles (UAVs) from Turkish Aerospace (TAI).
Following an open tender, Kuala Lumpur has decided to accept an offer from Leonardo for two MPAs, according to a statement from defence minister Hishamuddin Hussein.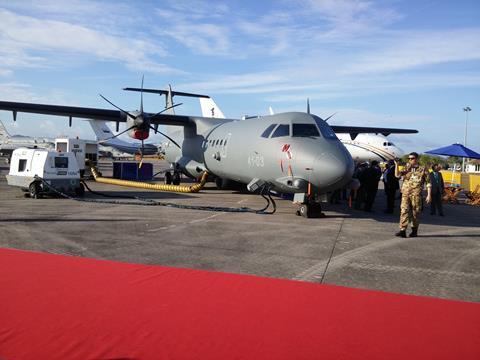 While Hussein does not specify the aircraft type, Leonardo has previously promoted its ATR 72MP to Malaysia. This included bringing the aircraft to the country's LIMA (Langkawi International Maritime and Aerospace exhibition) show in March 2017, where it made its public debut.
Kuala Lumpur has also accepted an offer from TAI for three medium-altitude, long-endurance (MALE) UAVs. Hishamuddin does not specify the UAV type, but TAI has promoted its Anka system for Malaysia's long-running UAV requirement. Other contenders were the General Atomics Aeronautical Systems MQ-9B and the AVIC Wing Loong II.
In early August, state news agency Bernama quoted deputy defence minister Abdul Aziz as saying that Malaysia will have a MALE UAV capability in 2026.
In November 2021, TAI opened an engineering and design office in Malaysia, its first such facility in Southeast Asia. TAI has also offered the possibility of industrial cooperation with Malaysia's aerospace sector.
Hussein adds that the Royal Malaysian Air Force aims to invest MYR2.4 billion ($514 million) in 2023 on sustainment for its Boeing F/A-18D Hornet fighters.
This work will be carried out in cooperation with the USA, and Hussein notes that he recently discussed the aircraft during a call with US Secretary of Defense Lloyd Austin.
Cirium fleets data indicates that the Royal Malaysian Air Force operates eight F/A-18Ds with an average age of 25.2 years.
Overall, Malaysia intends to spend MYR17.4 billion on defence in 2023, up 7.8% from 2022.
Separately, Indonesian Aerospace (also known as PTDI) has delivered the second of three Airbus Defense & Space CN235 MPAs to Malaysia, as part of a programme to convert three tactical transports to the MPA role.
The work was conducted under the auspices of the US government's Maritime Surveillance Initiative, which aims to bolster the intelligence, surveillance, and reconnaissance (ISR) capabilities of US partners in Southeast Asia.
The US Navy announced the delivery of the first modified CN235 in August.
The aircraft have been equipped with an ISR suite that includes a maritime surveillance radar, electro-optical/infrared turret, line-of-sight datalink, and a roll-on/roll-off mission system operator station. The programme also includes mobile and fixed ground stations.