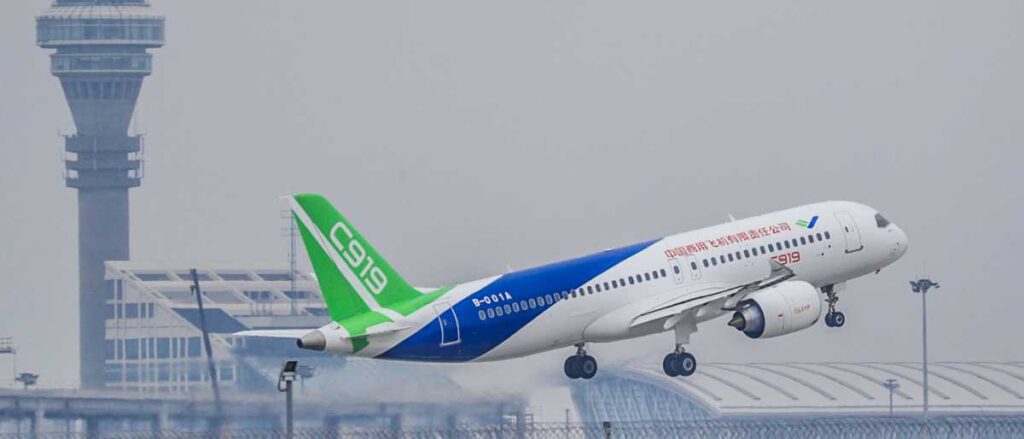 The Commercial Aircraft Corp. of China's C919 passenger jet has achieved certification approval from the Civil Aviation Administration of China, according to a Sept. 30 announcement from the company.
CAAC's delivery of the type certificate to COMAC this week comes 15 years after COMAC first development plan for the new jet was approved in 2007 and five years after making its maiden flight in 2017. Several updates released on social media accounts and digital news managed by Chinese state-run media websites have also provided more updates on the certification of the narrow body jet COMAC wants to use to compete with Airbus and Boeing.
A statement released by COMAC celebrating the type certificate received from CAAC for the C919 thanks the aircraft development program's "global suppliers, partners, customers and all circles for their support and encouragement."
"We have worked together for a long time, hand in hand, to succeed in developing the C919 aircraft," COMAC writes in its statement.
The C919 features seating for up to 168 passengers and has a range of 2,200 nautical miles, placing it in direct competition with two of the world's most delivered passengers jets, the Airbus A320 and Boeing 737.
COMAC's original planned first delivery and entry into service timing for the C919 was 2016, although technical difficulties delayed the program's commercial service launch multiple times since then.
The majority of the C919 program's key components, such as the engines and avionics systems, are supplied by western companies such as Collins Aerospace, GE Aviation and Honeywell Aerospace – which all have joint ventures and partnerships with Chinese companies supplying COMAC. The corporation requires foreign suppliers to manufacture parts made for the C919 in China.
An update on the certification published by CGTN, a Chinese state media publication, notes that the first delivery of China's first domestically produced jet could occur by the end of the year to launch customer China Eastern Airlines. According to CGTN, 28 different airlines have ordered a combined 800 C919 aircraft from COMAC.